Marine Batteries Sydney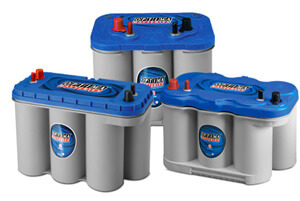 DM Marine Services is the leading Marine Batteries Providers in Sydney. If you have your own boat or any marine equipment of its similar matter, it is likely necessary to change the battery at some point without fail. If you won't use it, you will lose it in several instances. The normal lifespan of a marine battery is about 5-8 years. However, it is just an assumption that the boat is regularly used or at least there is a properly maintenance of the charging system.
Here at DM Marine Services, we strive hard to lessen the burden of boat ownership by providing the batteries, which are of best brands and comes with guarantee. We are feeling proud to announce that we are the largest retailer of Marine Batteries in Sydney and have developed an extensive network with reputed customer base. DM Marine Services has been providing the best service to the customers with dedicated sales team, which works closely with rich battery equipment and power knowledge to the customers with best-suited products.
The team at DM Marine Services won't compromise in quality or in providing on time delivery of the product at comprehensive prices. The team of professionals also provides service of testing, installation and delivering the batteries for the clients based on their request.The best marine batteries Sydney provider DM Marine Services always want to be the customers long-term partner for sustained growth. Our uncompromising quality, perfect attention to details, continuous improvement for excellence will completely ensure our customers to get the best products to suits the customer needs.